Off the Map LIVE! On your TV
February 24, 2015
Our last episode is now available on cable access!
On our last episode we were joined by Chet Zar who spoke about the world premiere of "I Like to Paint Monsters" the documentary about him by filmaker Mike Correll which we will happen at this year's Paradise Artist Retreat. Our outstanding line up continued with Damon Conklin, Pepper, Ian Mckown, Guy Aitchison, Dan Marshall and Illustrator Tony Moore of The Walking Dead fame. The group discussed past experiences at the Artist Retreat and hopes and aspirations for this years event.
We are currently going out to over a half a million households across the United States. We've been distributing Off the Map LIVE! to community television stations across the country through PegMedia.org. Please contact your local community television station and request us now! Bring the hours of awesome interviews with outstanding artists right into your living room.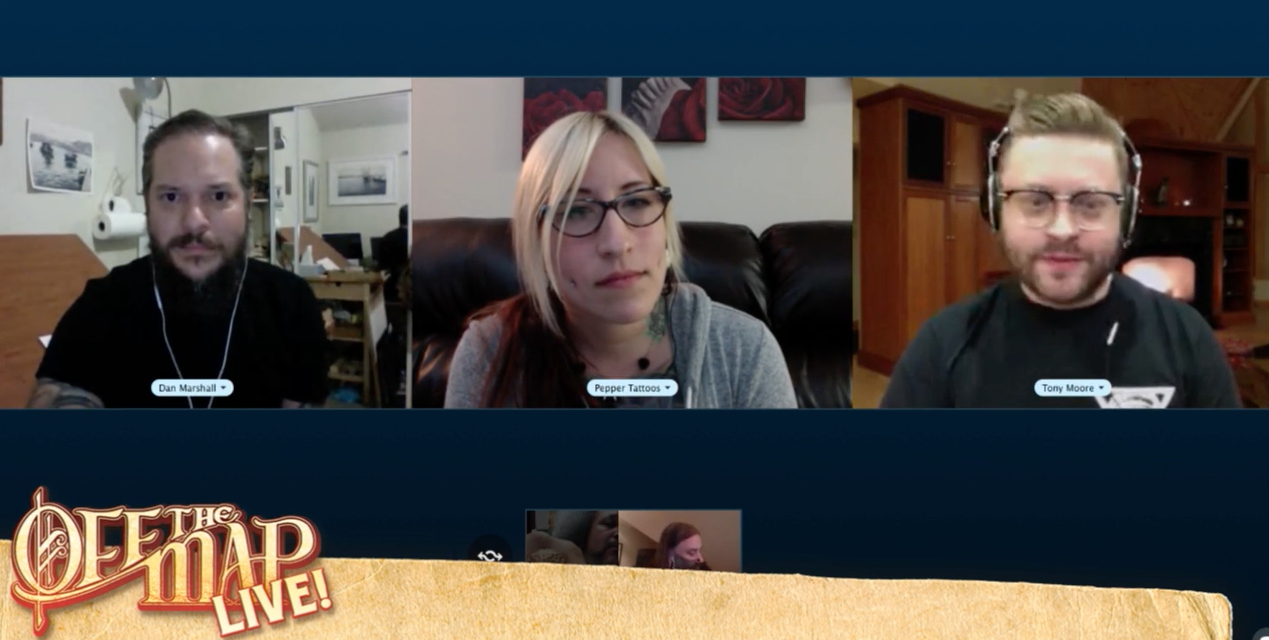 Off the Map LIVE! Tonight - Paradise Artist Retreat Special & Free Ticket Giveaway!
February 22, 2015
Tonight is the night, folks! We're gearing up for the show of a lifetime. Get ready for an insane lineup of talent on the show tonight at 10 pm EST on www.tattoonowtv.com. Guy Aitchison, Chet Zar, Ian Mckown, Pepper, Dan Marshall, and Damon Conklin will all be joining us to share in the excitement for the upcoming Paradise Artist Retreat. Tune in to learn about what they've been up to and what they have up their sleeves for the retreat. One majorly exciting development is the offical debut of Chet Zar's documentary, I Like To Paint Monsters.
We'll also be giving away *ONE FREE TICKET* to the retreat. All you have to do is tune in to find out how to enter! And while you're waiting to enter the giveaway you can feel free shoot over some questions to any of the artists using our live chat feature!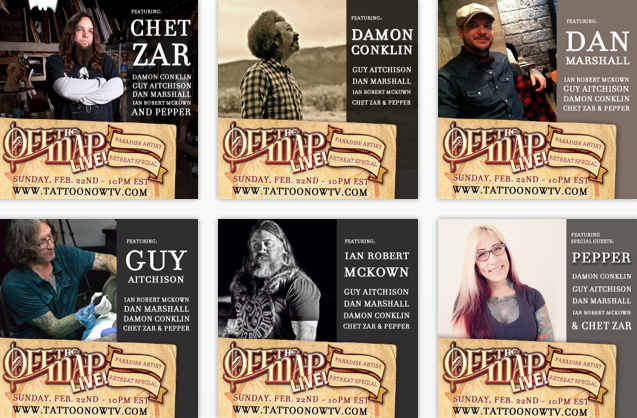 Help us spread the word about the show by telling a friend, posting to your social media accounts, or organizing a good 'ol fashioned viewing party. Grab some popcorn or a paint brush and get ready to be inspired by these amazing artists.
Paradise Artist Retreat Promo: